GCS Pulverizer Components
Global Cutting Systems has engineered a significantly more efficient pulverizer package that will make you rethink the pulverization avenue. GCS is the pioneer of a complete pulverizer package that is modular and accessory oriented. Our ability to modify our designs to fit your company's specific needs proves that GCS truly is "Leading By Design". Our Deuce Cut grind profiles and patented mill housing design allows us to achieve 15%-50% more productivity per kilowatt of power. Though we like the fact that our machine is more efficient in the weight per kilowatt aspect, we feel our greatest advantage is the versatility and function of the package. Our pulverizers are designed with a "Mechanic First Concept" which is directed at the ease of maintenance and overall function of the machine. The ability to remove the classifier stack or the cyclone/airlock as a whole to clean while on ground level promotes a much safer and cleaner atmosphere. GCS is the only company to design a "swinging mill house" in order to aid in the efficiency and accessibility of maintaining the mill house.
Combining the Deuce Cut® grind profiles and the patented mill housing design we are able to achieve 15%-50% more productivity per kilowatt of power. Though we are elated that the machine is more efficient in the pulverized Unit per kilowatt hour usage aspect we feel the greatest advantage is the versatility and function of the package. The ability to remove the classifier stack as a whole and clean the cyclone/airlock while on ground level promotes a safer and cleaner atmosphere.
GCS Advantages:
- Rigid and Precise Material In Feed Adjustment
- Velocity Funnel Inlet Tube(s)
- Patented Mill Housing Air Flow Design and Disc Retaining System
- Trademarked Hy-Pro® Disc Construction and Deuce Cut® grind profiles
- Independent Mill Air Flow Management with Mill Grate Tube(s)
- System Air Flow Management
- Unique Temperature/Vacuum Monitoring Systems
- Detachable Cyclone/Airlock (Rotary Valve) Stand
- Integrated Classifier with Complete Stack Removal and Three Position Outlet
Constructed of 4" x 6", 4" x 4" and 3" x 3" tube the modular superstructure frame design contains the machine components in a box type format. Classifier and Cyclone Work Platforms, inclusive of the superstructure, provide access to level related components. Incorporating tap plates and blocks for mounted components with metric fasteners ensures international convenience. Incorporating the box type design houses machine components for future processing enhancements. The unit foot print measures 85" (2.2m) x 90" (2.3m) with an elevation of 234" (5.9m). Please inquire about optimum working positions and areas.
Mill Housings are cast steel that incorporate a patented "Sweep" concept air flow design. Slide gates supplied on each mill allow for independent airflow adjustment. The design eliminates material loss traditionally associated with bottom/back side air intakes. The housing is mounted directly to the motor C-Face eliminating associated belt driven costs and utilizes full motor potential.
The Hy-Pro® Disc construction enhances wear resistance and is complimented with the Deuce Cut® grind profile. GCS has developed a double size reducing work area on a single disc that utilizes the entire cutting surface. Profile formulations for standard rotational molding grade PE and Rigid PVC yield a more efficient pulverization process than conventional straight cut profiles. Continued efforts will generate profiles for non-standard grades and traditionally cryogenic pulverized materials. GCS can also custom formulate profiles for specific applications.
360 Degree Inner and Outer Retaining Rings reliably mount and contain each disc to its mating component. The retaining system provides safe secure disc mounting that insures disc containment in the event of process deviations. Mill gaping is performed through three position fastener sets maintaining a secure gap between the discs without the use of spacing shims. Mill gap gauges can be positioned between the discs from the mill housing perimeter or center.
Unrestricted air and product flow into the disc grinding area is achieved through the Velocity Funnel Inlet Tube(s). The inlet tube design aides in the transition from the vertical input to the horizontal (lateral) grinding area. Air flow and component positioning prevent the product from balancing (pop-corning) out of the mill inlet. No baffling is needed allowing a clear direct path to the Deuce Cut® profile.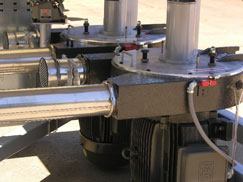 Patented Air Flow Dual Mill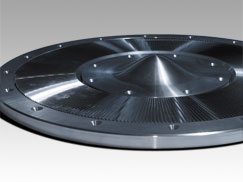 Patented Disc Retaining System
Airflow is adjusted via the Mill Housing (Slide Gate) and System Piping (Butterfly Valve). Operating temperatures can be achieved within the first 15-25 minutes of operation when beginning the process with an ambient machine temperature. These airflow controls help eliminate overloading the classifier/system with less then desirable product.
The process is controlled through a PLC which monitors temperature(s) and motor load(s) optimizing the product feed rate based on parameters entered into the HMI touch screen. The touch screen architecture simplifies data acquisition, process monitoring and component control. Literature accessed through menus provide processing optimization information, troubleshooting guide, maintenance and cleaning schedules. Recipes/Parameters can be stored for future references.
In process airflow deviations are detected through a Vacuum Monitoring System. Programmable parameters can be adjusted as airflow adjustments are made. Once parameters are established the monitoring system can assist in detecting meltdown (fusion) situations. A Grate Tube is placed in the exiting piping for each mill which prevents fused clumps and excessive stringers from entering the system piping.
The Material Transfer System uses an adequately sized Blower (Ventilator) to convey the product to a high efficiency Cyclone mounted atop an Airlock (Rotary Valve) for separation. Manageable, smooth wall piping segments in conjunction with sealed clamping help maintain process integrity. The Cyclone/Airlock (Rotary Valve) Stand separate from the main structure for ground level access when cleaning or maintaining. Sensor(s) used to detect product flow deviations.
The Classifier is an integral part of the machine supplied with abundant screening area paralleled with adequate spacing above the screen which aides in the expansion transition to operating temperatures. An offset cam drive motivates the ball cleaner system in each screen frame. VFD controlled motor, U-Joint motion control and components balanced to close specifications equate to a low maintenance system with component reliability. The Heavy Duty support structure secures the light weight Aluminum Tray stack that can be removed as a unit promoting safe and thorough cleaning. The Transfer Tray detaches separately to accommodate three exiting positions for the screened product.
The 4" square In Feed Adjustment takes full advantage of its heavy wall tube construction. Made from 1/4" wall tubing that ensures precise adjustment while maintaining component integrity. Sized to fit within the 5" Feeder Tray that provides an adequate product supply through an array of desire particle size requirements. The Feeder Support is fastened into position and will pivot from its operating location once fasteners are removed.