GCS 2500 Classic 75 HP Direct Drive Pulverizing Unit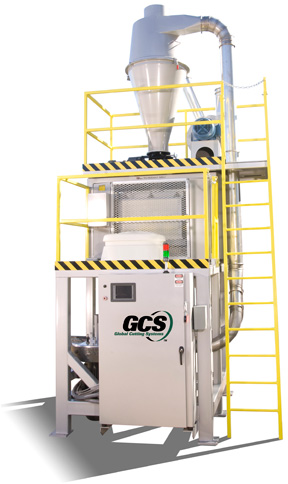 GCS 2500 Classic
Features/Specifications:
– 460/60/3 Electrical, 120VAC Single Phase Transformer and 24VDC Control Voltage
– Premium Efficiency Mill Motors with VFD Controls: M#1 - 75hp (60kw) / M#2 - 60hp (45kw)
– 500mm Diameter Hy-Pro® Discs with 500.01 & 500.02 Deuce Cut Profiles
– Heavy Duty Cast Steel Mill Housings
– Rigid Stationary Disc Mounting Plates and Flywheels
– Three Position Single Point Mill Gapping Adjustment
– Eriez 26C Vibratory Feeder with 4" (100mm) Wide Tray
– Velocity Funnel Inlet Tubes with Barrel Magnet (Mill #1)
– Great Western 711M 6 Deck Tru-Balance Sifter: – NOVA Style Cleaning System, 30 sq ft / 3.4m sq of (500um) Screening Area with Single Discharge Outlet
– High Efficiency Hinged Cyclone and 8" Rotary Valve
– 20hp (15kwh) 4000 CFM Blower
– 10 cu ft Free Flowing Material Hopper
– Control Panel with Pro Face PLC and 8" Panel View Touchscreen
– Tubular Heavy Duty Frame Design
– Classifier and Cyclone Level Work Platforms

HEAVY DUTY FRAME is constructed of 4"x6" & 4"x4" tube. Classifier and Cyclone Work Platforms provide access to level related components.
CONTROL PANEL rated NEMA 12 built to NEC specification inclusive of Main Breaker, MCR E-Stop Circuit, Circuit Breakers, and Pro Face motor controls with overload protection. Panel is mounted to main frame. - Real Time processing data viewed and accessed via a Pro Face 8" Touch Screen. Screen architecture provides component control and data acquisition. - Process is controlled by a Pro Face PLC ensuring optimum performance by monitoring motor loads and temperatures through entered parameters. - Vacuum monitoring systems provide meltdown (fusion) detection and protection for mill(s) and system piping. - Mill motors utilize inverter drives assuring proper RPM and reduced start-up power consumption.
MILL HOUSINGS made of cast steel incorporates a patented airflow design allowing independent control for each mill and eliminates material loss. The design is enhanced with Velocity Funnel Inlet Tubes transitioning the material from vertical entry to lateral (horizontal) grinding.
DIRECT DRIVE disc(s) utilize full motor potential while eliminating costs and failures of belt driven mills. WEG Premium Efficiency cast motors with a heavy duty shaft ensures flywheel/disc stability throughout the process demand. Recommended motor spacing promotes adequate cooling.
DISCS are constructed of proprietary Hy-Pro® material that enhances wear resistance and combined with Deuce Cut® grind profiles achieving unit/kilowatt hour ratios of: 11lbs to 16lbs per kwh (5.5kg to 7.2kg per kwh). The Deuce Cut® provides a double size reduction within the disc work area reducing temperature and motor load compared to standard straight cut profiles resulting in 15%-40% greater efficiency.
DISC MOUNTING 360 degree inner and outer retaining rings reliably mount and contain each disc to its mating component.
MILL GAPPING is performed through three position fastener sets maintaining a secure gap between the discs without the use of spacing shims. Mill gap gauges can be positioned between the discs from the mill housing perimeter or center.
PROCESS MONITORING SYSTEM strategically positions the thermocouple and vacuum pickup to provide consistent readings throughout airflow adjustments. Each mill is equipped with a grate tube to prevent fused clumps and excessive stringers from entering the system piping.
SIFTER Great Western 711M Tru-Balance Sifter is supplied with 6 sieves each with 5.0 sq ft / .46m sq screening area. 30.0 sq ft / 2.8m sq total screening area. An offset cam drive motivates the NOVA cleaner system in each screen frame. Mild steel construction and components balanced to close specifications equate to a low maintenance system with component reliability. The heavy duty support structure secures the kiln dried poplar interlocking sieves with aluminum corner supports. Single position outlets of stainless steel construction attached with nylon flex connections. Supplied with guard package inclusive of counter weight and lift off side guards. Micro switches indicate open position.
MATERIAL TRANSFER SYSTEM uses a 4000 CFM blower (ventilator) to convey the product to a high efficiency cyclone mounted atop an 8" airlock (rotary valve) for separation. Manageable, smooth wall piping segments in conjunction with sealed clamping help maintain process integrity. Sensor(s) used to detect product flow deviations.
MATERIAL INFEED SYSTEM begins with a free flowing 10 cu ft hopper that supplies product to the Eriez Vibratory Feeder topped with a 4" (100mm) wide powder coated steel tray. A 3" round inlet to the feeder tray controls the level of product present in the tray while the Rodix Feeder Control is used to adjust flow manually or automatically through the PLC parameters. A barrel magnet placed in the inlet tube helps prevent ferrous materials from entering the process. Low level sensor placed in the hopper detects product presence.
PULVERIZER START-UP: One day, on-site visit is inclusive with machine purchase.
Single day start-up includes:
• Inspection of machine installation
• Check incoming power
• Confirm motor rotations
• Check and record motor amperage
• Check and review safety devices and permissives
• Instruction of mill gapping
• Instruction of operators screen: Start-up and shut down procedures
• Overview of air management systems
Note: Two additional days are recommended for operation and process training.