GCS 200 Lab Pulverizing Mill Unit
The GCS Model 200 Lab Pulverizer is a single mill unit designed for short run and trial processing. A Linear Inline Feeder supplies product to the mill controlled with a potentiometer and regulated by temperature. The three position single point mill gaping system provides secure disc spacing, no shimming required. The mill incorporates a variable frequency drive insuring proper processing RPM's and the ability to change the RPM's for trails. The impeller style flywheel provides adequate airflow through the housings omitting the need for an alternate air source. Quick cleaning capabilities makes these units desirable for sample and trial purposes.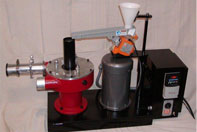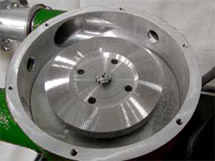 The GCS Model 200 Lab Mill is designed for immediate small run production use rated at MDPE-40lbs/20Kg ~ PVC- 70lbs/30Kg. The GCS200 mill incorporates a single piece bearing housing that uses the components similar a standard belt driven mill.
Global Cutting Systems offers the pulverizing systems that increase efficiency for immediate savings in today's competitive plastics processing market.
Machine Model
GCS200
Capacity Units per Hour lbs
70lbs
Capacity Units per Hour kg
30kg
Mill Motor Size
5hp/3.75Kw
Mill Motor-Soft Start-VFD
VFD
Electrical
4Kw
Footprint
15"W x 28"L x 30"H
Footprint (Metric)
.38m x .7m x .76m
Unit Elevation
30"
Number of Mills
1
Disk Work Diameter
200mm/8" Discs (2):
Bolt-On and Hy-Pro Material Construction
High Abrasive Disk
Optional
Optimized Grind Profile
No
Classifier (GCS)
Optional
PLC Process Control
No
Touch Screen Interface
No
Dual or Single Mill Capacity
No