GCS Control Panel Features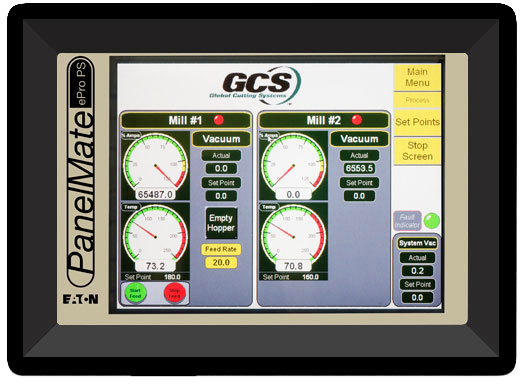 The GCS 2500 and 1500 Series machines are all equipped with a Pro-Face touch screen. This user-friendly device features several menus and control screens that show real time data and the ability to adjust and monitor your machines operation. Start-up procedures are simplified by an easy flow through the motor control pages. The "Process" screen allows the operator to monitor motor load, temperature, feed rate, and all set-points. Our "Set-Point" screen allows you to program temperature, vacuum, and feed-rate for the particular material you are processing. All settings can be saved on our "Recipe" page so they can quickly be retrieved for faster set-ups.
Troubleshooting is made easier with a "Fault" screen showing all active faults and a reset button to put your machine back online in a timely fashion once the fault is cleared. The GCS Control panel also offers a "I/O Status" and "Analog Data" screen which display's the status of the PLC Controller to assist the maintenance personnel. An "Hour Meter" screen will provide "Total Machine Hours" along with the hours of the blades currently being used on each mill. These can be reset to track Puverizer Disc Blade life of each mill, or measure machine hours on a particular job. This feature can be reset between blade or product changes.
The GCS Pro-Face control panel requires minimal training to navigate through the user friendly menu options that provide an operator the ease of optimum pulverizer performance.