New Pulverizer Disc Plates
Global Cutting Systems manufactures new pulverizer disc (plates) for our own GCS pulverizer machines. Discs are available in various high wear resistant materials and tooth configurations for all pulverizing applications. GCS also provides new pulverizer disc (plates) for other OEM pulverizer machinery.
OEM List of New Pulverizer Disc Styles supplied by GCS
Global Cutting Systems
Avalong
Herbold
Orenda
Pallmann
PK
Reduction Engineering
Wedco
Zerma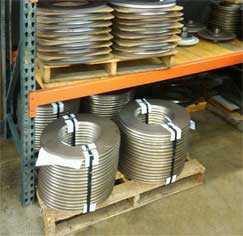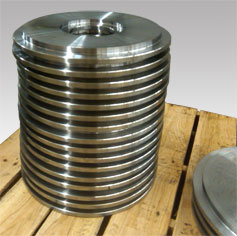 New Pulverizer Blades Shipped from Inventory
Materials:
High wear high carbon/high chrome
Hy-Pro® wear disk provides long blade life
Standard H-13
Aerospace high wear tool steel
Carbide and TDC coatings are available
Hy-Pro™ Disks
Our unique, Hy-Pro® grinding disks lasts 4-5 times longer than any current disk in the industry. The patent-pending Hy-Pro® disks are designed and manufactured using specially engineered abrasion resistant material. Our disks will outperform any current grinding disk on the market, saving up to 35% in disk sharpening expenses alone.
Tooth Configurations:
Standard tooth configurations for all polymers
Deuce Cut® configurations for optimum output performance
Custom configurations also available
Exact Tooth profiles are provided by the highest precision manufacturing facility in the pulverizing industry. Each profile is finish ground to a close tolerance that ensures process consistency. Our large inventory of stated OEM pulverizers allows us a quick responsive delivery.
Deuce Cut® Particle Distribution
Interested in how to Increase Production Rates and Achieve an Optimum Particle Distribution? Global Cutting Systems Introduces the "DEUCE CUT™"
The traditional straight cut pulverizer grind profiles have seen their day. GCS is promoting the "Deuce Cut®" grind profiles that increases the overall pulverizer performance. We have formulated grinding profiles based on available horsepower and desired mesh size to optimize the pulverizing process. Our dedication to improve the weight per kilowatt ratio is supported by R&D and industry leaders who know there is a more efficient way. Listed below is a comparison sieve analysis on a traditional dual mill pulverizer.
***Test samples are from a DUAL MILL "Primary/Secondary" pulverizer.***
OEM Profile
GCS's Deuce Cut
Difference
30 Mesh
0.0%
0.0%
0.0%
35 Mesh
1.5%
1.3%
-0.2%
50 Mesh
47.8%
56.5%
+8.7%
60 Mesh
15.9%
13.7%
-2.2%
80 Mesh
17.3%
15.0%
-2.3%
120 Mesh
9.7%
9.0%
-0.7%
Pan
7.8%
4.5%
-3.3%
Dry Flow
27.5 Seconds
22.8 Seconds
-4.7 Seconds
Bulk Density
34.2 Grams/100cc
37.2 Grams/100cc
+3.0 Grams/100cc
Production Rate
1240#/hr
1580#/hr
+340#/hr
* Results will vary on grades of material and environmental conditions
GCS and its affiliates are committed to provide products with greener compliant solutions. Contact us about how GCS can help your pulverizing process.
Call 330-833-2111 or E-mail: Pulverizer@globalcuttingsystems.com