GCS 2500 Mill Base - Dual Mill Direct Drive Pulverizing Unit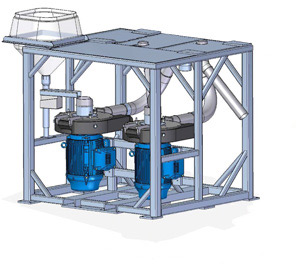 GCS 2500 Mill Base
Features/Specifications:
– (2) 460/60/3 Severe Duty / Premium Efficiency Mill Motors:
M#1 - 75hp (55.2kw) / M#2 - 60hp (44.1kw)
– (4) 500mm Diameter Hy-Pro Discs with Deuce Cut Profiles
– (2) Heavy Duty Cast Steel Mill Housings
– (2) Rigid Stationary Disc Mounting Plates and Flywheels
– Three Position Single Point Mill Gapping Adjustment
– Velocity Funnel Inlet Tube with 8in Barrel Magnet (Mill #1)
– 10 cu ft Full Flow Material Hopper with Feed Collar
– Heavy Duty Tubular Frame Design
– Mill to Cyclone and Sifter Transfer Piping

MAIN FRAME is constructed of 4"x4", 4"x3" and 3"x3" tube with c-channel lift pockets. Incorporates tap plates and blocks for mounted components with supplied fasteners. Left side offset material hopper location for easy access to sifter trays.
MILL HOUSING made of cast steel incorporates a patented airflow design allowing independent control for each mill and eliminates material loss. The design is enhanced with velocity funnel inlet tubes transitioning the material from vertical entry to lateral (horizontal) grinding. Slide gate, bird cage and clamps on mill air inlet.
DIRECT DRIVE disc(s) utilize full motor potential while eliminating costs and failures of belt driven mills. WEG Premium Efficiency cast motors with a heavy duty shaft ensures flywheel/disc stability throughout the process demand. Recommended motor spacing promotes adequate cooling.
DISCS are constructed of proprietary Hy-Pro® material that enhances wear resistance and are combined with Deuce Cut® grind profiles. The Deuce Cut® provides a double size reduction within the disc work area reducing temperature and motor load compared to standard straight cut profiles resulting in 15%-40% greater efficiency.
DISC MOUNTING 360 degree inner and outer retaining rings reliably mount and contain each disc to its mating component.
MILL GAPPING is performed through three position fastener sets maintaining a secure gap between the discs without the use of spacing shims. Mill gap gauges can be positioned between the discs from the mill housing perimeter or center.
MATERIAL INFEED SYSTEM begins with a free flowing 10 cu ft hopper that supplies product to the existing 20A/26C Eriez Vibratory Feeder. A 3" diameter inlet to the feeder tray controls the level of product present in the tray. An 8" barrel magnet placed in the inlet tube helps prevent ferrous materials from entering the process.
SIFTER EXIT PIPING - Bolt on sifter outlet tubes furnished with 5" diameter piping for mill return and finished product.
SIFTER GUARD - Removable center sifter guard plate for easy access to flex connections.
MATERIAL TRANSFER PIPING - Inclusive of 6" diameter pipe from mill to double branch Y with air diversion valve. 8" diameter pipe from double branch Y to cyclone. All with associated sealed clamping help maintain process integrity. Note: Elbows and tubes have galvanized finish.
ADAPTOR COMPONENTS - A cyclone adapter ring and an 8" diameter x 30 degree elbow provided for component change over.