GCS500 Satellite - 75hp Direct Drive Pulverizing Mill Unit
Our 500mm Series pulverizers are industry driven systems that incorporate proven technology while delivering consistent performance. These units take full advantage of their footprint containing the components and allowing us to progress with future enhancements. Through our R&D program and commitment to improving the pulverizing process, we provide the most efficient machines on the market. GCS pulverizers optimizes the size reduction of traditional and difficult materials.
Features/Specifications:
– 460/60/3 Electrical, 120VAC Single Phase Transformer and 24VDC Control Voltage – Premium Efficiency Mill Motor Full Voltage Starting: M#1 - 75hp (60kw)
– 500mm Diameter Hy-Pro Discs® with Deuce Cut® Profiles
– Heavy Duty Cast Steel Mill Housing
– Rigid Stationary Disc Mounting Plate and Flywheel
– Three Position Single Point Mill Gapping Adjustment
– Eriez 26C Vibratory Feeder Drive with 4" (100mm) Wide Tray
– Velocity Funnel Inlet Tube with 8" Barrel Magnet (Mill #1)
– 10 cu ft Full Flow Material Hopper
– Control Panel with Temperature Controller, Feeder Cube and Mill Start/Stop Buttons
– Heavy Duty Tubular Frame Design

MILL SUPPORT FRAME is constructed of 4" x 4" and 3" x 3" tube. C Channel lift pockets.
CONTROL PANEL rated NEMA 12 built to NEC specification inclusive of Main Breaker, MCR E-Stop Circuit, Circuit Breakers, and WEG motor controls with overload protection. - Mill temperature controller with high temperature alarm - Mill motor Amperage meter and Start/Stop buttons - Vacuum Monitor System with alarm - Vibratory feeder control: Manual or Automatic (Temperature)
MILL HOUSING made of cast steel incorporate a patented airflow design allowing independent control for each mill and eliminates material loss. The design is enhanced with Velocity Funnel Inlet Tubes transitioning the material from vertical entry to lateral (horizontal) grinding.
DIRECT DRIVE disc(s) utilize full motor potential while eliminating costs and failures of belt driven mills. WEG Premium Efficiency cast motors with a heavy duty shaft ensures flywheel/disc stability throughout the process demand. Recommended motor spacing promotes adequate cooling.
DISCS are constructed of proprietary Hy-Pro® material that enhances wear resistance and are combined with Deuce Cut® grind profiles. The Deuce Cut® provides a double size reduction within the disc work area reducing temperature and motor load compared to standard straight cut profiles resulting in 15%-40% greater efficiency.
DISC MOUNTING 360 Degree Inner and Outer Retaining Rings reliably mount and contain each disc to its mating component.
MILL GAPPING is performed through three position fastener sets maintaining a secure gap between the discs without the use of spacing shims. Mill gap gauges can be positioned between the discs from the mill housing perimeter or center.
MATERIAL INFEED SYSTEM begins with a free flowing 10 cu ft hopper that supplies product to the 26C Eriez Vibratory Feeder topped with a 4" wide powder coated tray. A 3" diameter inlet to the Feeder Tray controls the level of product present in the tray while the Rodix Feeder Control is used to adjust flow manually or automatically through the temperature parameter. A Barrel Magnet placed in the inlet tube helps prevent ferrous materials from entering the process. Level sensor included.
Machine Model
GCS500
Capacity Units per Hour lbs
--
Capacity Units per Hour kg
--
Mill Motor Size
75hp/60Kw
Mill Motor-Soft Start-VFD
--
Electrical
--
Unit Elevation
92"
Number of Mills
1
Disk Work Diameter
16.96/500mm
Bolt-On and Hy-Pro Material Construction
High Abrasive Disk
Hy-Pro¤
Optimized Grind Profile
Deuce Cut¤
Classifier (GCS)
--
PLC Process Control
--
Touch Screen Interface
--
Dual or Single Mill Capacity
--
Air Flow Management
--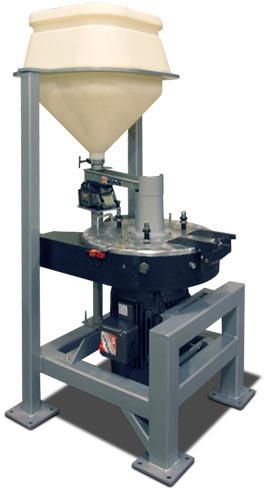 The GCS 500 Pulverizing Mill Unit