OEM Retro-Fit Kits
Global Cutting Systems offers a complete Retro-Fit Kit for your Reduction Engineering pulverizer system. The Retro Fit Kit will allow the customer to use their current pulverizer machine and gain additional safety features and increase overall production throughput.
GCS would require a custom machine evaluation on each system
Ultra Retro-Fit Kit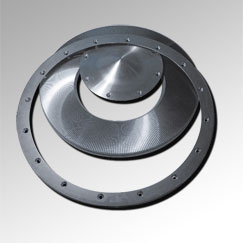 The Ultra Mill
The Ultra Mill Retro-Fit Kit will require the GCS patented Disc Mill Assembly that provides immediate safety features for all your current pulverizer mill assembly using the new GCS Deuce Cut® blades mounted on an upgraded GCS flywheel. This Ultra Mill Retro Fit Kit is compatible with current Ultra Mill Housings.
System Requirements:
GCS Retrofit Kit Complete with Patented Disc Mill Assembly
New Pulverizer Flywheel and Water Jacket
GCS Deuce Cut® Blades
This upgrade will increase your overall throughput by 20% and provide added safety features not found in current models.