Welcome to Global Cutting Systems
Global Cutting Systems manufactures new pulverizer machinery, pulverizer blades, strand pelletizer rotors and die face plates for the plastics industry. GCS is a division of King Machine & Tool Company and operates out of our 22,000 square foot facility that is staffed with journeymen machinist and an engineering group. Our mission is to provide precision, quality parts manufacturing and exceptional service to the plastics industry.
Global Cutting Systems manufactures 6 standard pulverizer units for Rotational Molding, PVC Profiling, Dispersion and Plastic Recycling industries.
GCS incorporates a patented mill housing design and air management system optimizing air flow throughout a wider ambient processing window. The direct driven Hy-Pro® constructed disks topped with the Deuce Cut® profiles provide maximum wear resistance with industry leading unit per kilowatt hour usage. The patented Disc Retaining System provides 360 degree inner and outer rings that reliably mount and contain each disc to its mating component.
Independent mill vacuum monitoring systems detect process deviations. The Conical Pendulum Classifier (sifter) includes a completely removable stack with wash down capabilities and is supplied with a detachable cyclone stand. A PLC is utilized for process control while real time data is viewed and accessed via an HMI Panel Mate touch screen.
These units offer versatility of machine location, ease of operation and maintenance. Continuous support of modern technology allows GCS to future incorporate features as On-Line Support, Remote Data Acquisition, In-Process Gap Adjustment, Automated Air Flow Management, etc.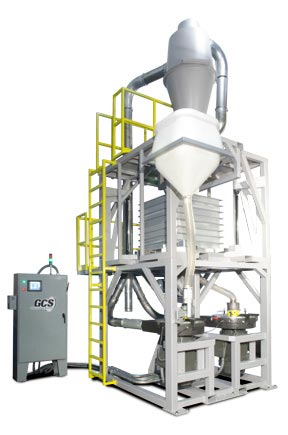 Global Cutting Systems
Pulverizer Machine Models
(click on model number below for more information)
GCS Premium Series
GCS Classic Series
GCS Mill Based Series